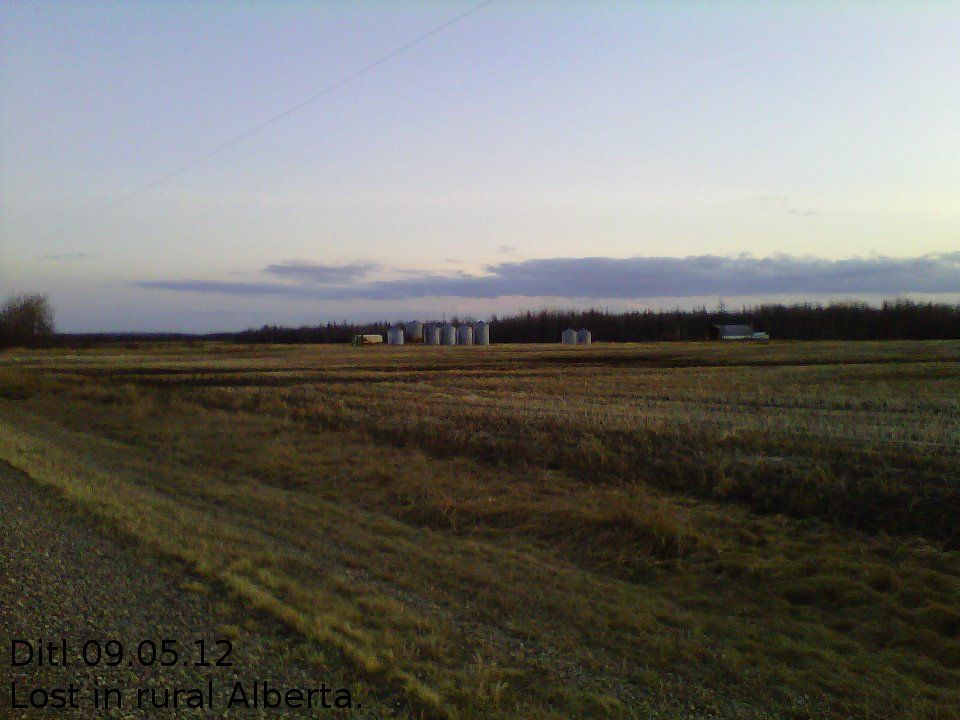 Several weeks ago I randomly answered an advert in the Western Producer and landed a temporary job as a Nanny in north west Alberta.
Rural
North West Alberta. So rural it takes 37 minutes to get to some semblance of civilization. It's fantastic.
Anyways... I couldn't find my camera until I had gotten dressed and started my tea. Somebody little keeps making off with it and taking photos of the underside of things. Ah to be three again.
Timmy's chai tea in a Timmy's cup. Ahh heaven.
It's yogourt for breakfast today which makes me happy. Rhubarb yogourt! Which I had thought you could only get in the UK. Never mind that it's mixed with strawberry, it's still RHUBARB.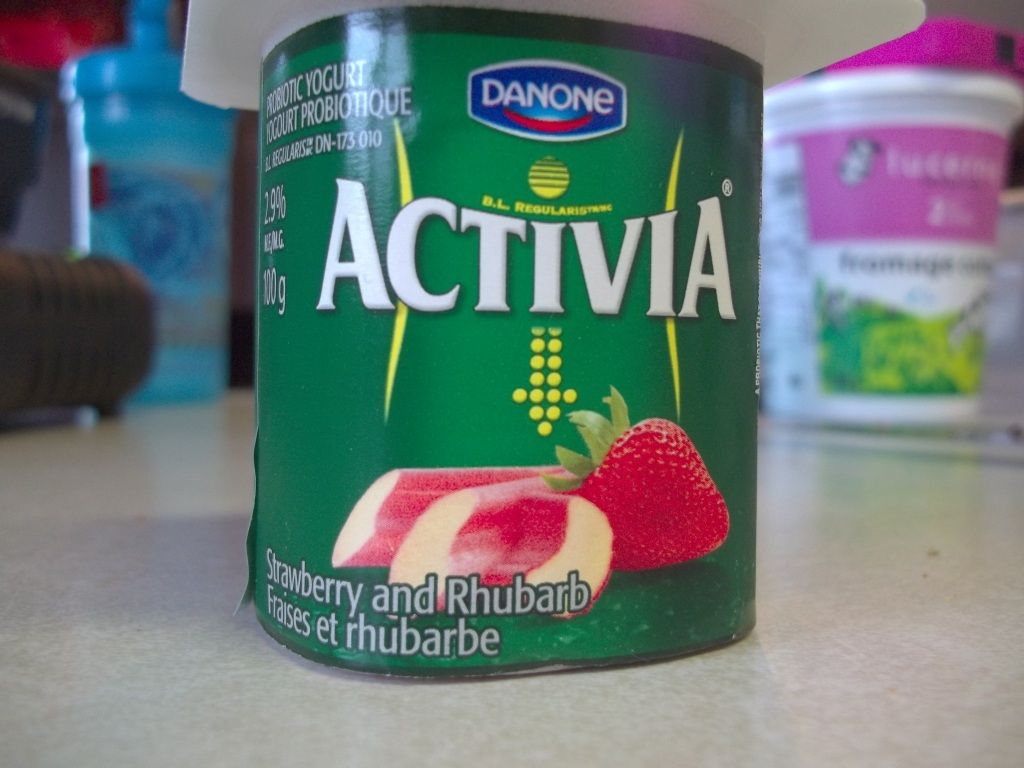 Halfway through the yogourt Little Man clocks the time and we realize that he'll miss the bus if we don't get a move on.
To the end of the drive way. On the double!
And of course the bus chose to be 10 minutes late today. Where are you bus?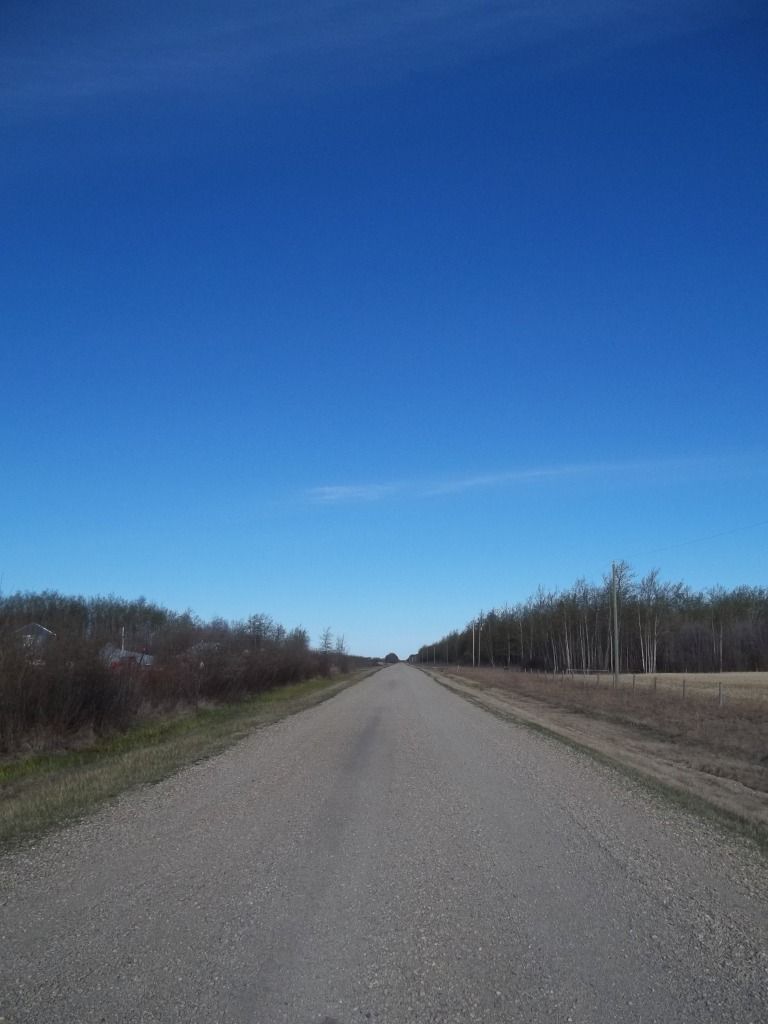 Back inside I pop Blond One and HRH the Pink Pig of Princessville of in front of PBS and head for the shower.
Dear Lush,
I love you so much. Even though I am showering in glorified pond water I still smell good when I use your stuff.
Hooray!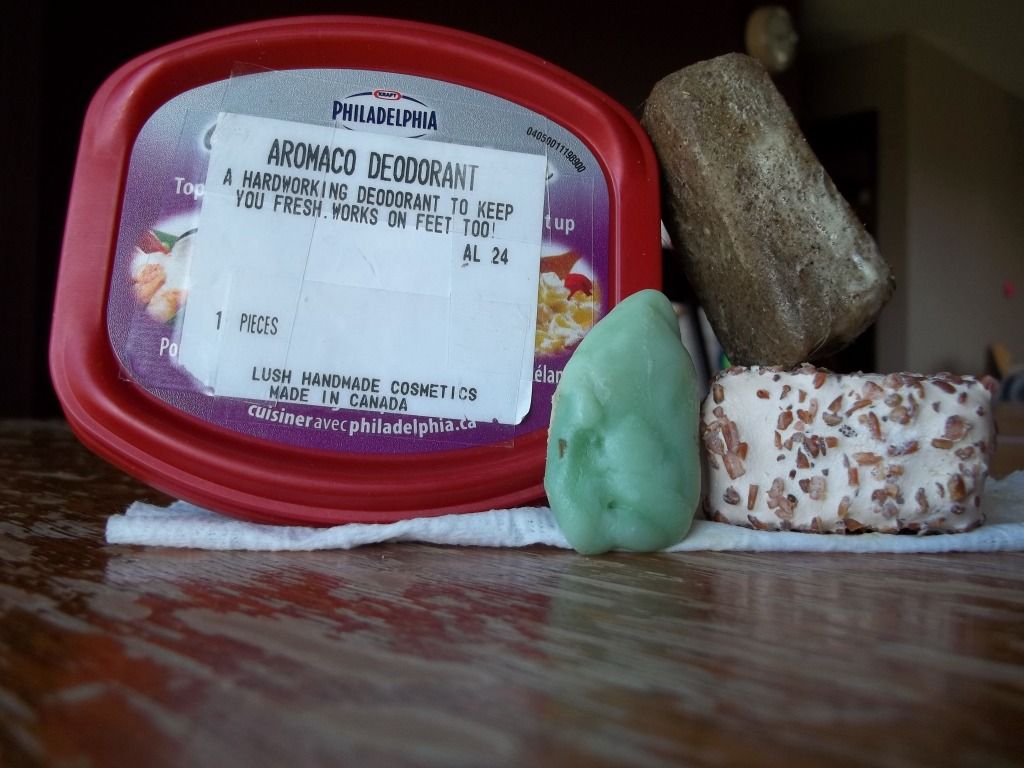 Once out, Blonde One and I check on our homemade water colour paint. Lets poke them into the sun more so they dry a bit faster.
(And Mum. Check out the Tomato plant in the background. All three of them survived the flight/car ride here!)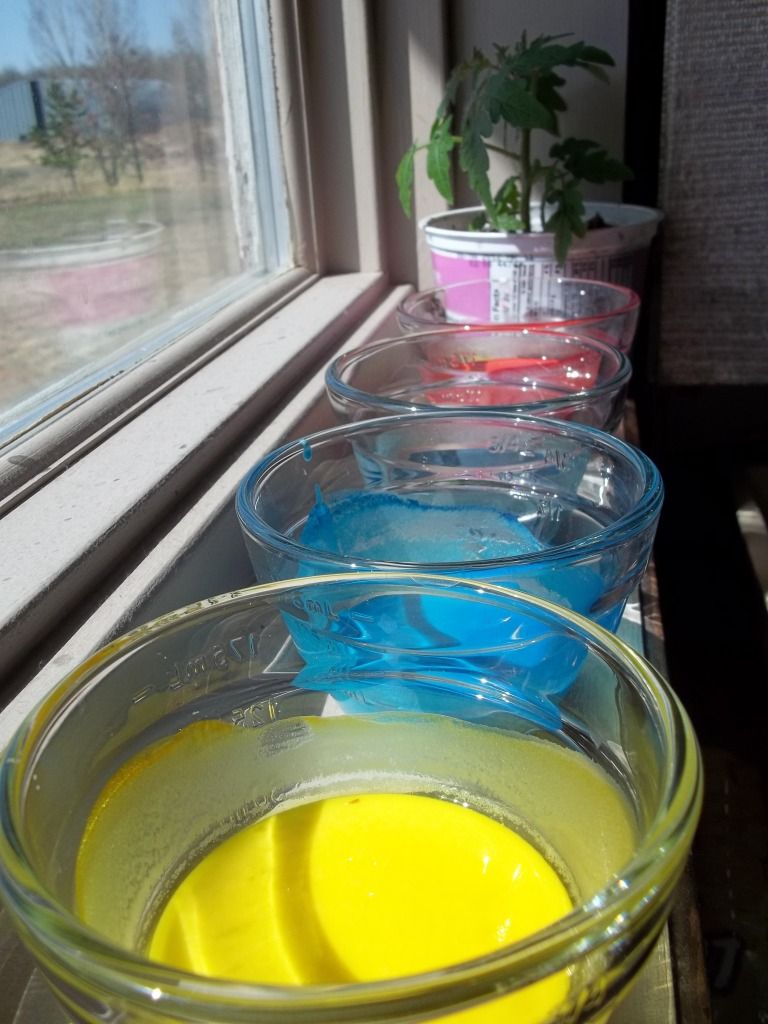 Gah. Running late again!! Blonde One and I run out the door and hop into the
massive
farm truck for the ride to her play-date out at the Mennonite Colony. It's my half-day off so she's going to a friends house.
Thank goodness my parents owned a 12 passenger van when I learned to drive. Otherwise I'd never have the confidence to drive this truck. It has enough power to pull stuck dually tractors out of the mud. The scary thing is that you need that much power on these roads. You never know what you'll run into. That's mud and gravel not tarmac. Scary roads.
On the way back to the house I realize that my tea is still sitting on a counter 45 minutes away. However the tiny general store is only 15 minutes. Iced tea for the win!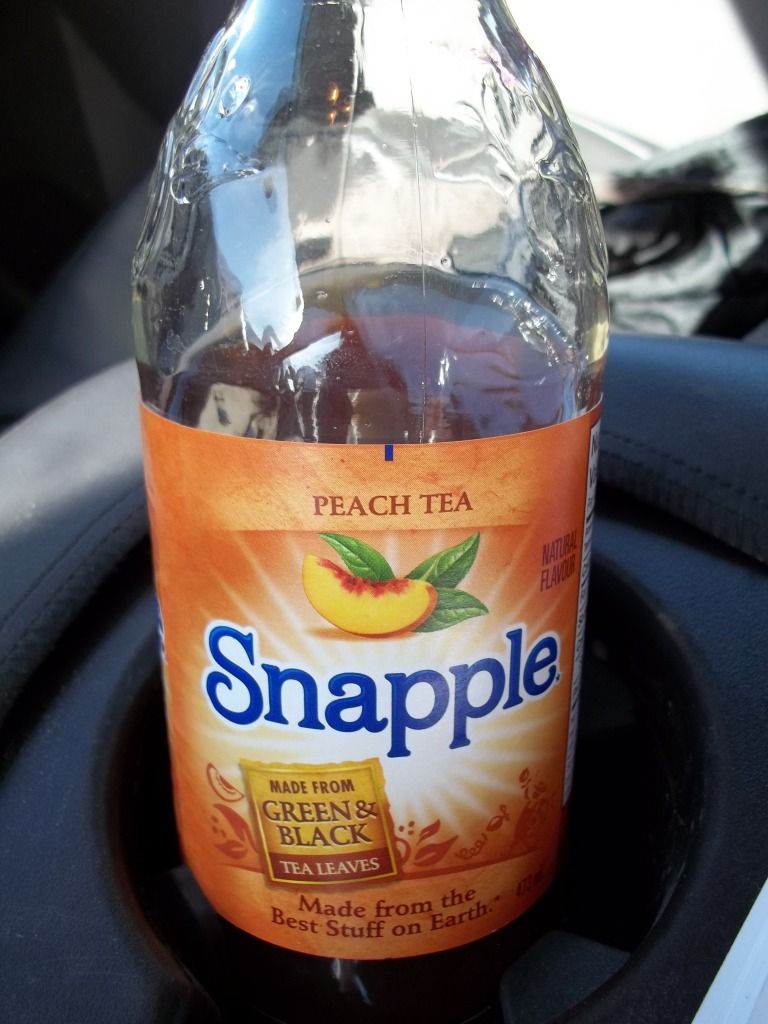 All right. Back at the house for a couple minutes. Time to get ready for my road trip and trade cars.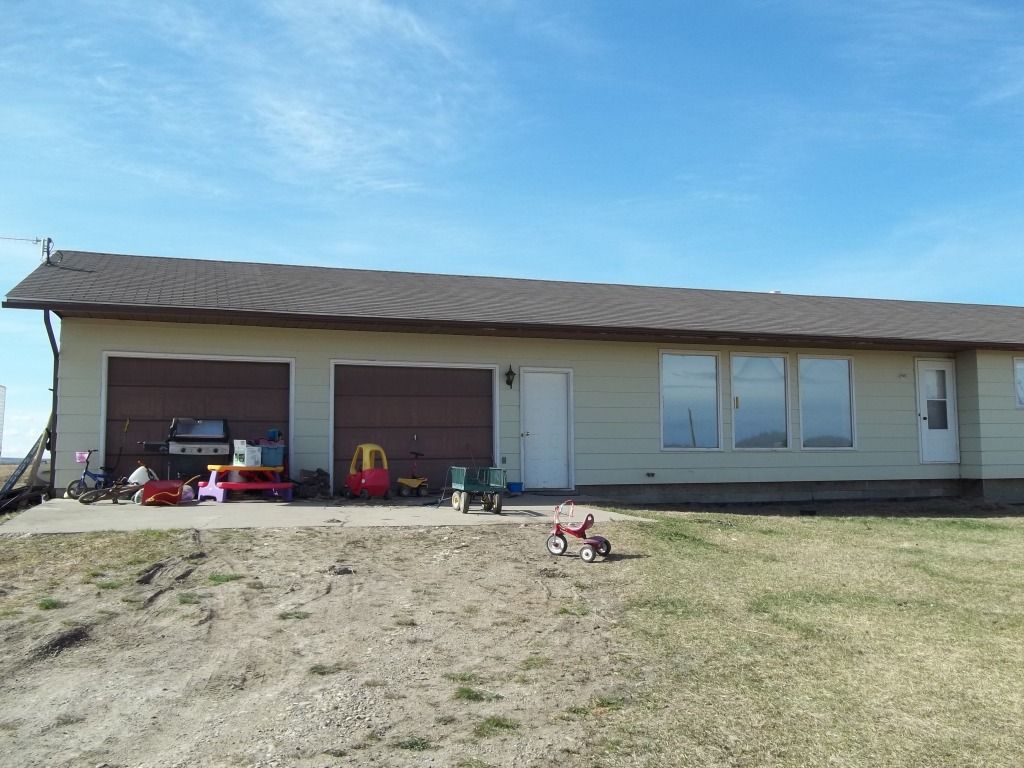 Vital part of getting ready to go to town. The prettying. Don't want to scare the townies too much.
Awesome driving music station out of Grande Prairie.
Bachman Turner Overdrive!
This is perfect driving music for Alberta. It's way too boring to drive here. No corners. Need to stay awake somehow and this mini-van has an amazing sound system.
I had to stop and take a picture of the Famous Silver Valley Teddy Fence. No idea why it's here.
There's nothing but teddies on it. One of these day I may add one to it.
Blinking 79kmph wind gusts. Mess my hair up why don't you. It was a bad idea to wear it loose today. Happy smiley Kt though.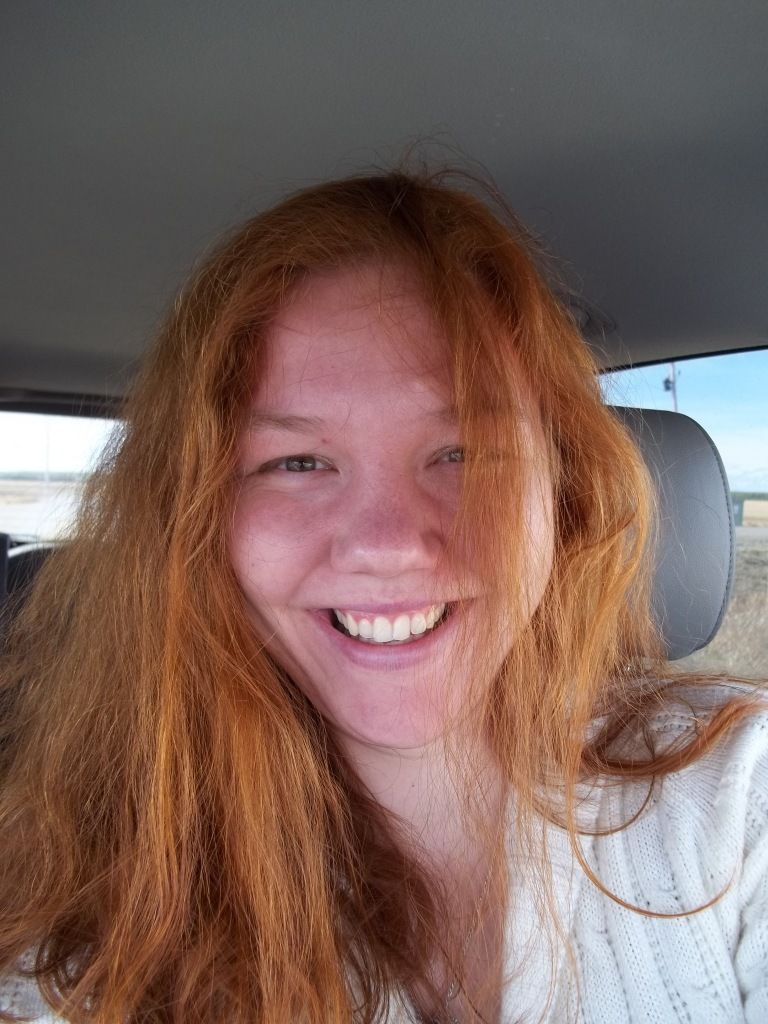 Still driving. I'm on tarmac now though. Boo-yeah! No more gravel!
Finally arrive in Dawson Creek. It's the closest large town. Only an hour fifteen minutes away!
Also... I get it that this is Mile Zero. Did you have to put it in the middle of the road though? This makes turning left awkward.
First stop. Credit Union.
I have to deposit my pay-cheque. I'm now a quarter towards my travel money goal! England in the autumn is getting closer and closer!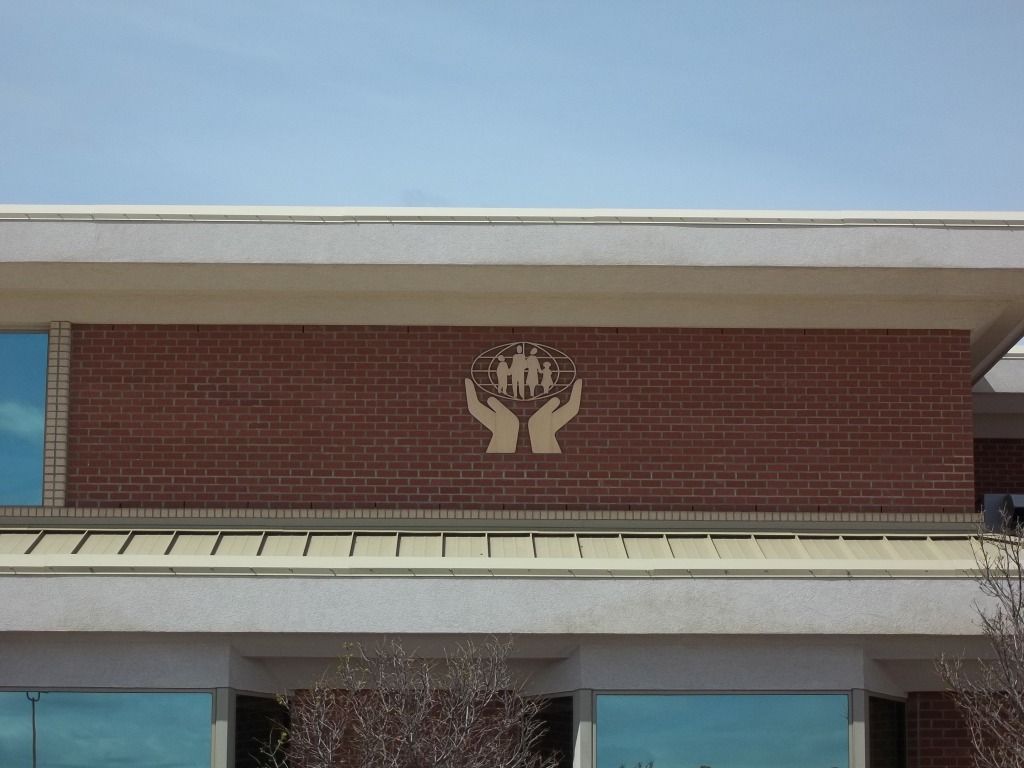 The whole reason I came to Dawson today instead of curling up and sleeping the day away.
Canadian\BC health care I love you.
My asthma has been acting up something fierce lately. Cute accented, curly haired, young, married :( doctor says it's probably all the dust and updated my inhaler prescription with something new. I sat in the waiting room for about 30 minutes waiting for a slot. Pretty darn short wait for a walk in! Thankfully I had my trusty rusty knitting. I'll get your socks done eventually Mum!
Next stop is the mall where I drop off my prescription. Gah. Who knew a simple Salbutamol Inhaler would cost $20? Did the price go up or something?
Due to the high demand they say there's a 45 minute wait. That's okay. I'll take myself out for lunch.
I haven't eaten Quiznos for a long time. Let's see if they are still good. (They were. :)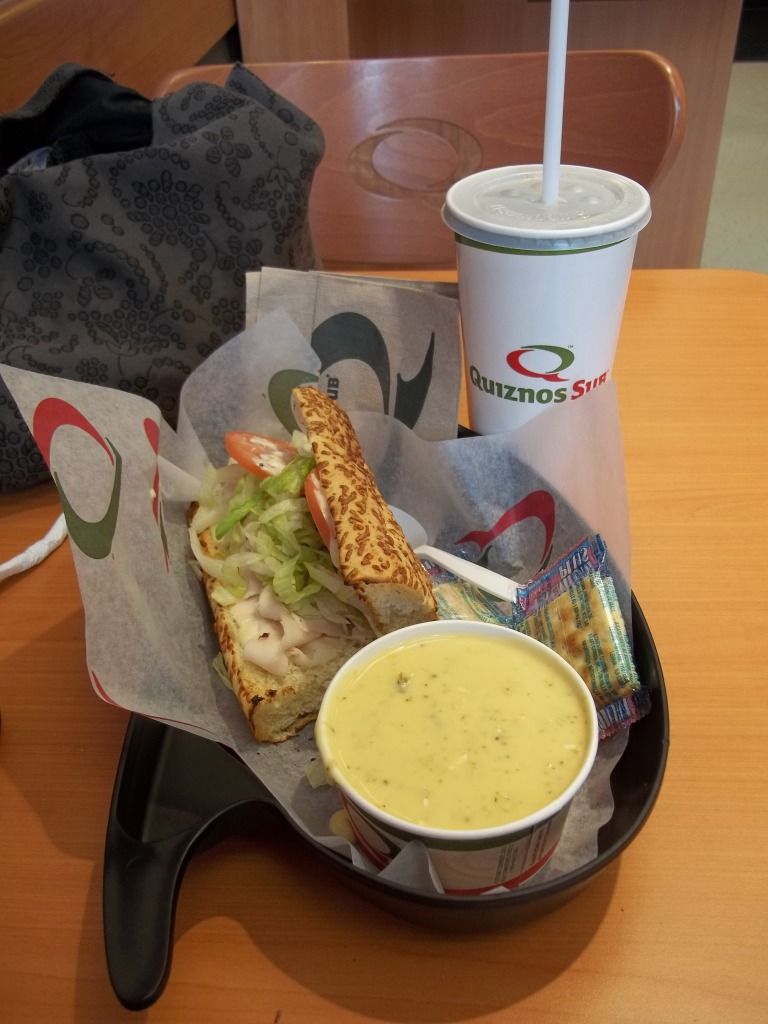 Somehow I managed to delete my
waiting for another hour due to the wait being longer than expected so I'll try on strange clothes
shots.
Just imagine me dressed in florescent green spandex. Or actually... Don't. I can't afford to pay for your therapy bills.
Have a shot of a fantastically tasty puffed wheat square instead. OMG good. Off in the corner you can see my third cup of tea for the day. This one wasn't ignored and I got my caffeine hit for the day. Or I would of if I hadn't accidentally gotten Peppermint instead of English Breakfast. What is wrong with me today?
Driving back into the wilds of rural Alberta. Blinking flat roads. I miss the mountains.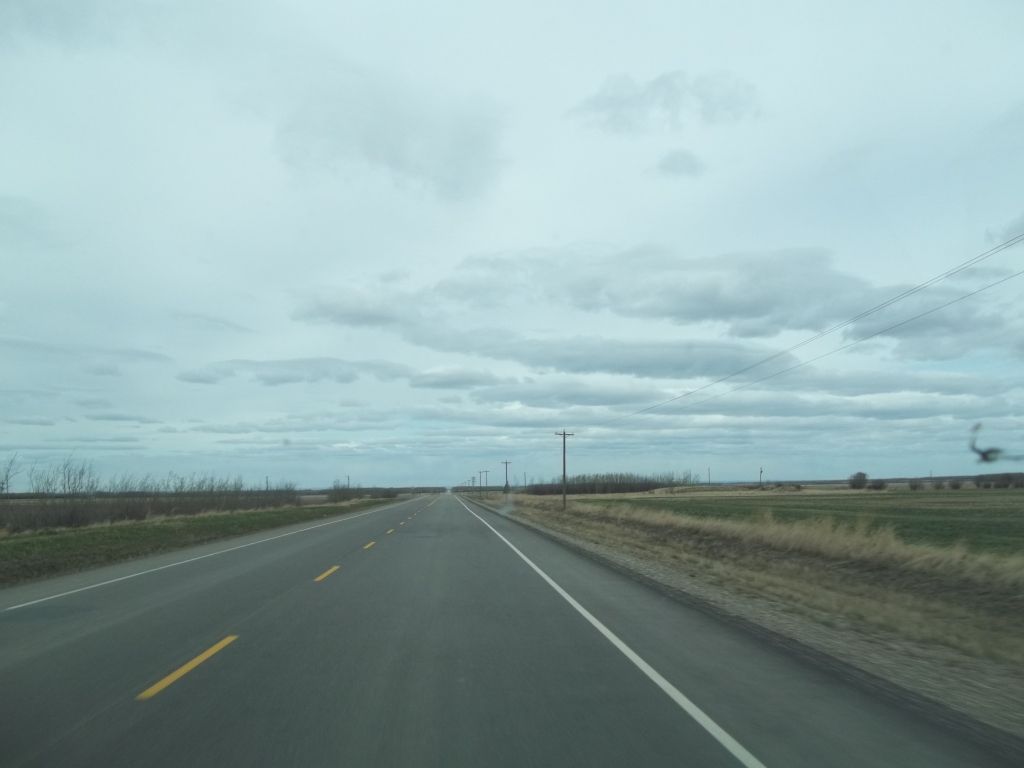 With a quick stop at the house to unload groceries (Four different types of milk! Why?) and change vehicles as I'm off to pick up Blond One.
We got back to the house half an hour before the bus arrived so we decide to blow bubbles whilst waiting for it to arrive.
It's just windy enough that all you have to do is lift the wand and magic happens. Perfect for lazy Kt's and three year olds.
When this happened we decided there had been enough bubbles for today and moved it out of the kittens reach.
Still waiting for the bus, so we played with the silly looking shaved dog. He gets too hot in the summer so off it came. Sadly though, they did a bit of a poodle cut on him. Newfoundland + Poodle cut = Hahahahahahahaha.....
Oh hey look there are buds finally coming out. Quick! Must document! There is snow on the forecast tonight so spring may be short lived.
It's the bus! Cue jumping in happiness and lots of shrieking. (Blond one. Not me!) It's 20 minuets late and the wind is getting cold out here.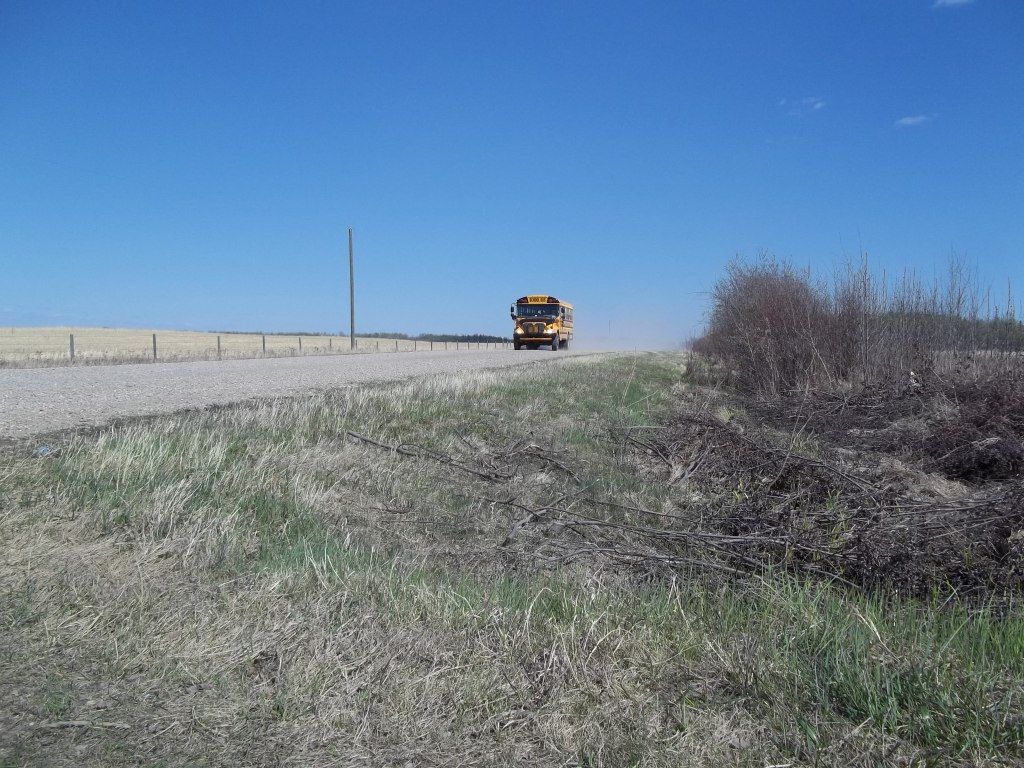 Inside the littles set out their painting equipment while I poke at dinner.
Hmm... This part's not turning out too well. I'll just call it slop on a plate and serve it anyways. They'll never notice.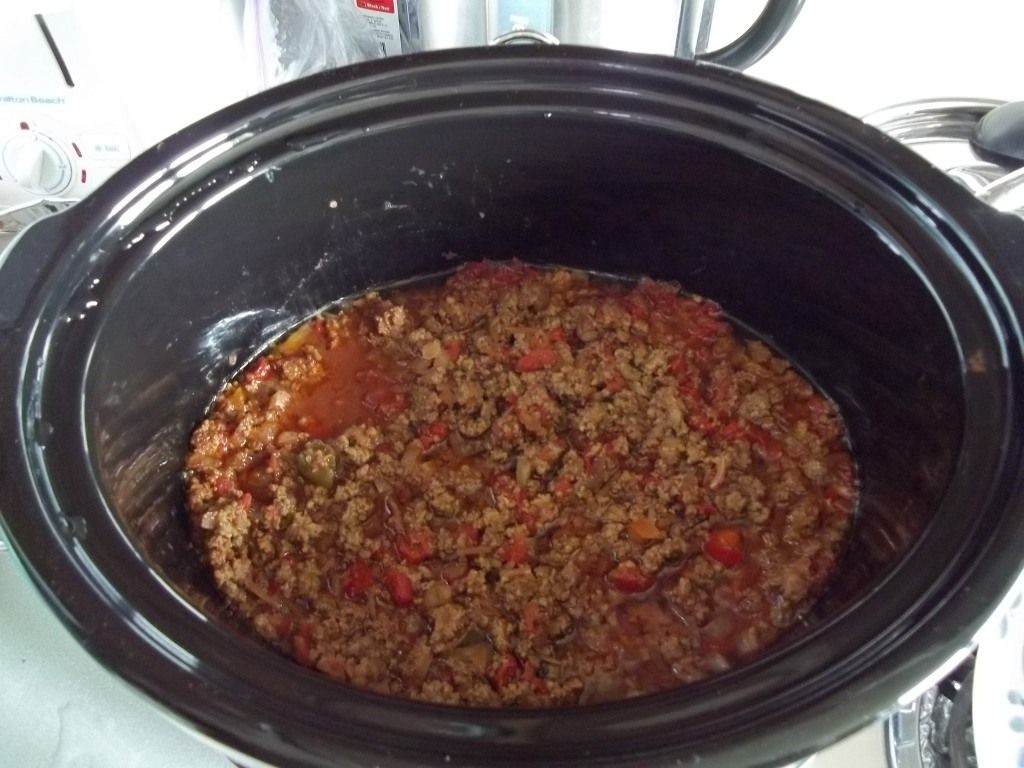 At this point the camera starts flashing low battery so I change them for my crazy awesome rechargeable ones. You plug them straight into the USB port in your computer. I like them soooooooo much. 5 hours of charging = 3 weeks of moderate usage.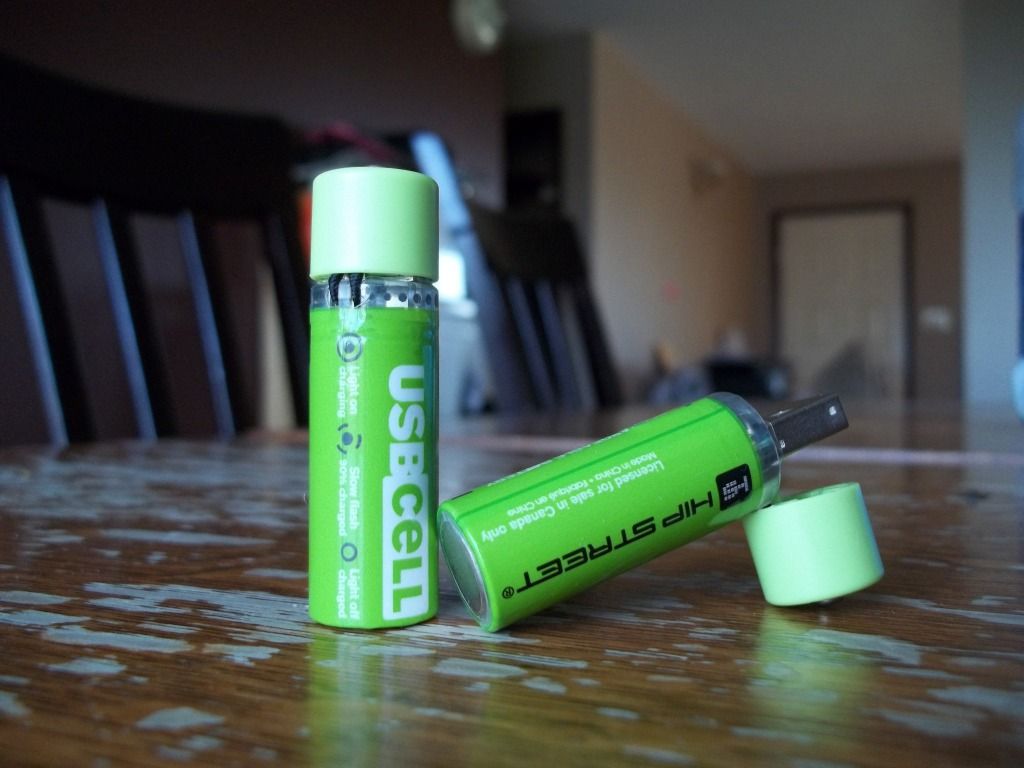 Blonde One makes off with the camera to go on safari under the table. Somehow she figured out how to use the B&W setting. Something I have never figured out on this one.
There were lots of smile! and cheeses! coming from under the table. I am now the proud recipient of 72 shots of a dust bunny.
And a pretty neat one of the table leg. Blond One has a good eye for a three year old.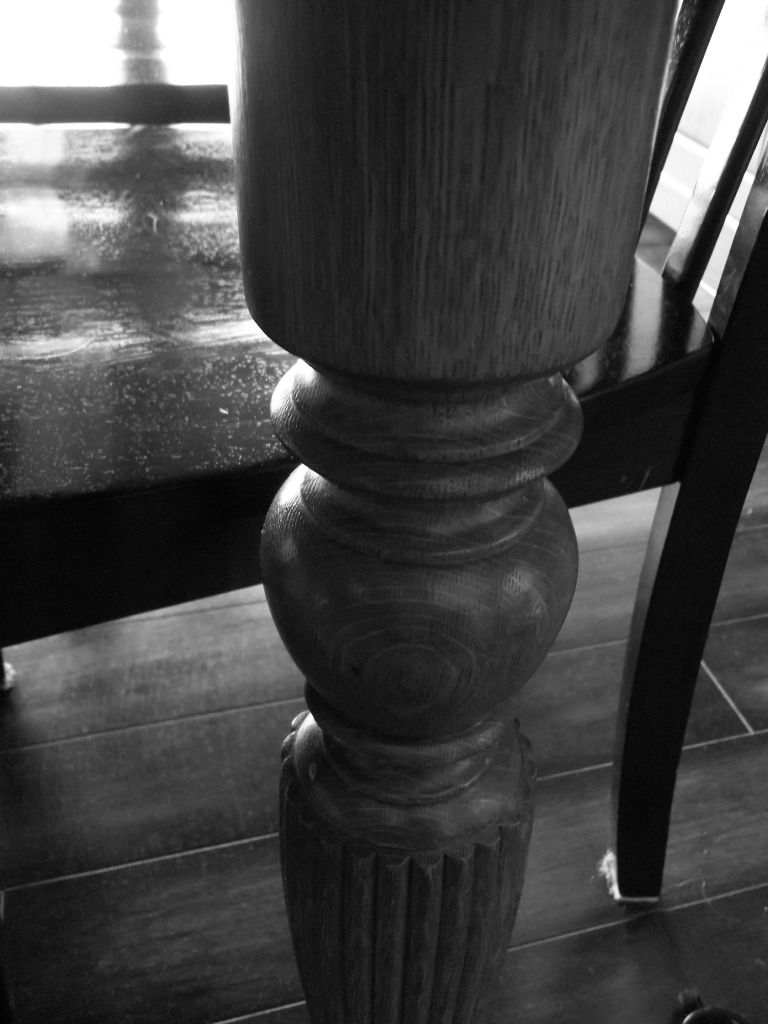 Little people start their before bed routine. Bath and a snack. Out comes my before bedtime routine. The shawl of repetitiousness. The prettiness offsets the boringness.
Little people are settled and I'm looking in horror at the kitchen. When did this happen?
I can get away with stuffing most of it into the dishwasher right?
Pop on some cleaning music.
And a couple hours later... (Seriously.) Tada! The rest of the house looks pretty good too. :)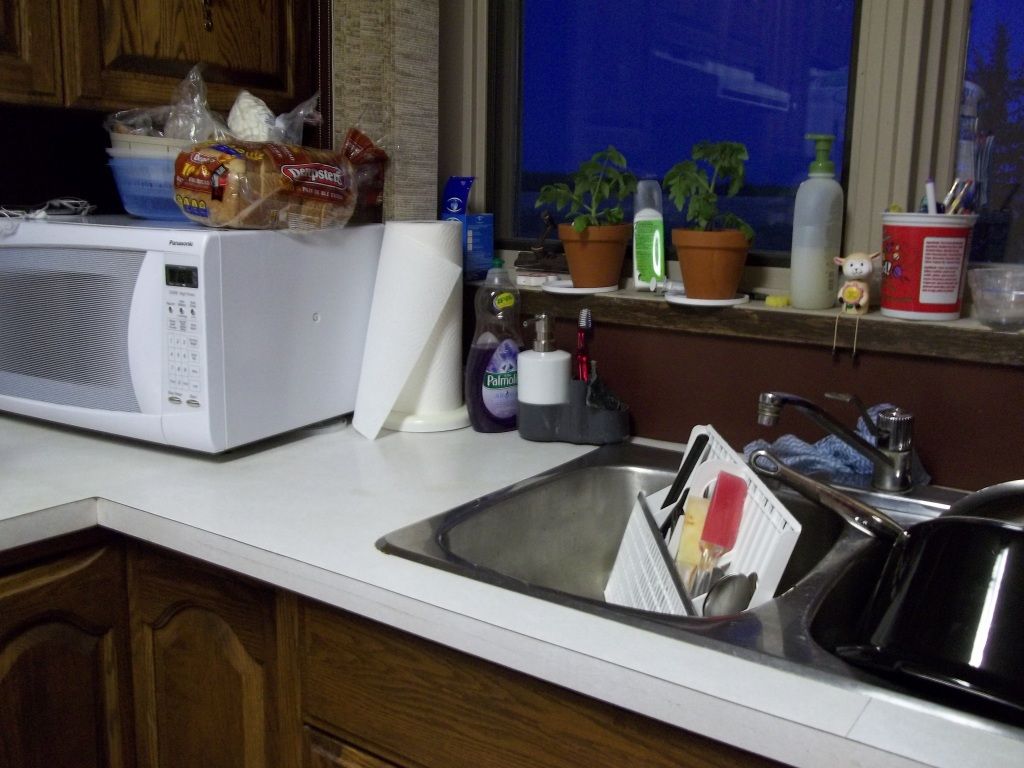 Boss gets home for a dinner break so I go out for a quick walk. Hello Grain Bin!
Checking out the dugout. Is it still mucky gross?
All the house's tap water comes from here. Which is slightly disconcerting cause the taps all run brown. Ick. Thank goodness for the massive bottles of water we drink/cook from. You'd probably get sick if you drank this sludge.
After the walk I curl up on the couch with my first actual cup of caffeinated tea and knit till the bosses get home at 11 then it's off to bed cause the day starts early pearly tomorrow.
See you later Ditl!